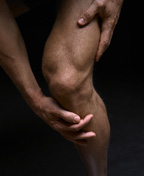 Knee pain can come from an inflammatory condition such as arthritis, bursitis, or tendonitis. Knee pain can also be the result of a sprain or strain, dislocated kneecap, injury to the cartilage tissue in the knee, (called meniscus), or any number of conditions particular to the knee. Knee pain can even be a symptom of gout, or may be caused by disorders of other parts of the body such as the hip.
The knee bears the weight of the upper body and is often stretched and strained in many directions. Conditions involving the knee can be minor disorders or bigger problems requiring serious medical attention.
Massage is a systematic manual application of pressure and movement to the soft tissue of the body skin muscles, tendons, ligaments, and fascia (the membrane surrounding muscle and muscle groups). Massage promotes the flow of blood and lymph, relieving tension, stimulating nerves, and stretching and loosening muscles.
Optimum Healthcare's chiropractors will examine and conduct diagnostic tests to determine the cause of knee pain, pinpoint the seriousness, and determine the best treatment.
Click here to contact Optimum HealthCare today to schedule an appointment and free knee pain consultation