What Is Physical Therapy Home Management?
Home Management is a short and detailed home exercise program, including self-management of your condition at home.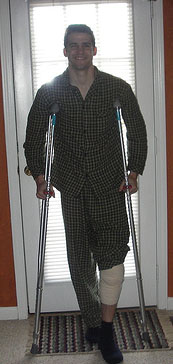 Is Home Management Important?
Home management and self-management are very important. In order to get better, you understand and accept responsibility in the healing process.
For example, if a physical therapist sees a patient on a Thursday and she has an exacerbation of her condition on a Saturday, home management empowers a patient to be able to say, "Well, okay, my physical therapist said if the pain is more in my muscles to put heat on it and if it's over the joint to put ice on it and if I do my stretching exercises, then I may feel better and I feel like I can get this under control." This is an incredibly important piece in the rehabilitation process. After most severe injuries, people are very rarely back to 100% of pre-injury status. Home Management helps you, the injured person, get back in control of your life.
Most people have to learn to manage a certain degree of discomfort, pain, and sometimes lack of motion. When a patient is discharged from physical therapy , they need to have good tools to deal with flare-ups and to realize they are responsible for maintaining the improved condition that they have worked so hard to create. This is why home exercise and home management are so important in physical therapy.